by Elizabeth Goddard
Top of the Morning to you! Happy St. Patrick's Day. I'll be posting more frequently than usual in the upcoming weeks and I also have some book promotion for my upcoming release, TAILSPIN, coming up so today I'm just sharing what I'm reading and working on. Now that I've added Audible I'm "reading" twice as much as before.
As aspiring writers, we're told to read, read, read, then writer, writer, write. So glad I love both reading and writing or I'd be in trouble. A lot of what I read is for research purposes. I love to learn new things as I work on my books.
There are so many great books by some awesome writers out there, deciding which book to read from my TBR (To Be Read) pile is sometimes the hardest decision I make during the day. Well, that's not entirely true, but it's a tough decision.
I'm currently reading
A Fool & His Monet
by Sandra Orchard. Funny story about this one. I was working on creating a proposal a very similar to this story with an FBI art detective. In fact when I learned that Sandra had already sold this, we talked about it and she had bought the same books as I had for research. All I can think is the old adage, "Great minds think alike." I never submitted that proposal because, well, who needs my story when we've got this one! It's a fun and quirky mystery.
Here's the blurb: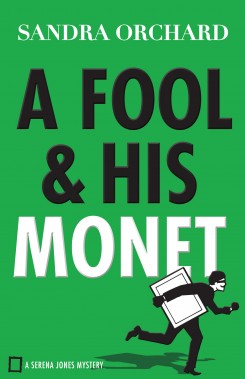 Serena Jones has a passion for recovering lost and stolen art--one that's surpassed only by her zeal to uncover the truth about the art thief who murdered her grandfather. She's joined the FBI Art Crime Team with the secret hope that one of her cases will lead to his killer. Now, despite her mother's pleas to do something safer--like get married--Serena's learning how to go undercover to catch thieves and black market traders.
When a local museum discovers an irreplaceable Monet missing, Jones leaps into action. The clues point in different directions, and her boss orders her to cease investigating her most promising suspect. But determined to solve the case and perhaps discover another clue in her grandfather's murder, she pushes ahead, regardless of the danger.
With spunk, humor, and plenty of heart-stopping moments, Sandra Orchard gives readers an exciting string of cases to crack and a character they'll love to watch solve them.
I just finished reading,
You're the One That I Want
by Susan May Warren. Susan is a much-loved author and her books are must-reads if you enjoy drama and falling in love. The story sucked me right in with an adventurous opening--just perfect for this adventure-loving writer.
Here's the blurb:
Owen Christiansen has been in a downward spiral since an injury ended his NHL
career. But a job on an Alaskan crabbing boat offers a fresh start . . . maybe even a shot at romance with Elise "Scotty" McFlynn, the captain's daughter.
Used to being one of the guys, to never relying on anyone, Scotty doesn't believe in happily ever after―especially with someone like Owen. Her instinct is confirmed when Casper Christiansen arrives to drag his prodigal brother home, bringing with him a truckload of family drama―and even worse, the news that Casper is wanted for questioning in connection to a crime back in Minnesota.
But Owen is more than the sum of his mistakes, a truth both he and Scotty discover when she escorts both brothers to Deep Haven as part of her new job on the Anchorage police force. Thrust into an unfamiliar world of family, faith, and fresh starts, Scotty begins to see potential for a happy ending . . . if she's brave enough to embrace it.
I also just finished reading a book for research.
Wildlife Wars: The Life and Times of a Fish and Game Warden
by Terry Grosz.
"Wildlife Wars," Terry Grosz serves up fascinating stories-alternately hair-raising, hilarious, and heart-wrenching-from his 30-year struggle to protect wildlife in America. A natural storyteller, Grosz writes about the remarkable characters he met-on both sides of the law-as he matched wits with elk poachers, salmon snaggers, commercial-market duck hunters, and a host of other law-breakers. Best of all, though, these stories are so remarkably entertaining you won't want to put them down. Wildlife Wars is the winner of the 2000 National Outdoor Book Award, Nature and the Environment Category.
Next on my list to read is
A Spy's Devision
by Melanie Dickerson. Love this author's stories! I've fallen in love with her fair-tale stories, and now she is also writing Regencies. Isn't
this cover absolutely gorgeous! I can't wait to start reading and falling in love with her characters.
In England's Regency era, manners and elegance reign in public life—but behind closed doors treason and deception thrive. Nicholas Langdon is no stranger to reserved civility or bloody barbarity. After suffering a battlefield injury, the wealthy, well-connected British officer returns home to heal—and to fulfill a dying soldier's last wish by delivering his coded diary.
At the home of the Wilherns, one of England's most powerful families, Langdon attends a lavish ball where he meets their beautiful and intelligent ward, Julia Grey. Determined to maintain propriety, he keeps his distance—until the diary is stolen and all clues lead to Julia's guardian. As Langdon traces an evil plot that could be the nation's undoing, he grows ever more intrigued by the lovely young woman. And when Julia realizes that England—and the man she is falling in love with—need her help, she finds herself caught in the fray. Will the two succumb to their attraction while fighting to save their country?
And for the writing, I just turned in my second book in a series called Wilderness, Inc, set in the Wild Rogue Wilderness of southwest Oregon, where I used to live. I love setting my romantic suspense stories in wild and scenic adventurous settings. This particular story was set on a tiger sanctuary! Loved writing this one. Like many authors, I use a Pinterest board to save images that help me with the writing. over to my Pinterest board on this story setting to get a feel for the place.
https://www.pinterest.com/bethrachg/wild-rogue-wilderness-series/
and look at the tigers while you're there!
https://www.pinterest.com/bethrachg/wilderness-inc-book-2/
Two more things to share. Today I have a radio interview over at MotherTalkRadio.com. Be sure to check it out if you have time.
Last but not least, hop over to sign up for my
Goodreads Giveaway of my upcoming release, TAILSPIN!
Thanks so much for joining me. Have a blessed day!
Beth